FITNESS CENTER REHAB & COURTESY SERVICE OPPORTUNITY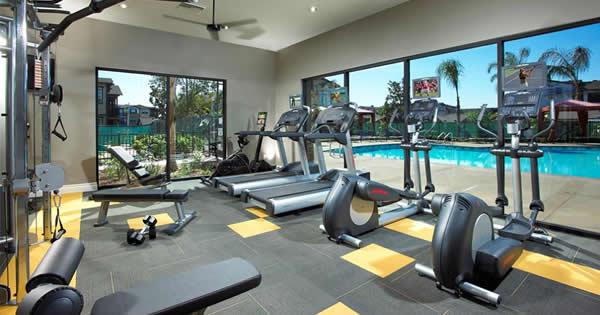 Client Review: RealtyCom client with over 16,000 units in the West Coast plans a rehab and upgrade of the common areas and fitness center at an older 300 unit community.
The Work: RealtyCom was asked to help our client determine how best to provide high-speed Internet and video services in their newly planned fitness center which was to have multiple, wall-mounted flat screens in addition to state-of-the art Life-Cycle equipment with integrated video screens and Internet access. Additionally, the other common areas contained eight HD flat screens.
First, RealtyCom worked with the low voltage consultant and architect to understand the layout of the new addition, the planned location of the fitness equipment and video screens. We then reviewed the specifications for the Life-Cycle equipment to determine what the resident experience would be. Last we reviewed the existing Service Provider agreements to determine what video and Internet services were included as free courtesy services for the asset.
All of the major Service Providers (such as AT&T, Time Warner, Comcast, etc.) have Business Class Service ("BCS") groups which are separate from the Residential Service groups who typically work with residential Real Estate Owners. Representatives from the BCS groups often contact individual properties to sell services for the leasing offices, common areas and fitness centers. They do not know what the properties should be receiving for "free" as a part of their Residential courtesy service package, and often the property staff is not aware of the potential for overlap. This type of confusion is common and costly for Property Owners. RealtyCom works to negotiate the inclusion of certain telecom services as a part of the amenity package for our clients greatly reducing or eliminating property expenses for their properties.
RealtyCom determined that the best way to service the new fitness center was to combine the various products of both the "cable" (Franchise Provider or "MSO") and the "phone" (Local Exchange Carrier or "LEC") companies.
RealtyCom negotiated a new agreement with the LEC to provide courtesy services to common area flat screens at no charge to the property. In addition, under the terms of the new MSO agreement, our client received hardware allowing all the Fitness Center flat screens and integrated monitors to receive 80 video channels at no cost.
The Results: RealtyCom created a deal structure with both of the property Service Providers that made the best and highest use of their services in the most economical way for the asset. The resulting contracts with the Service Providers provided the site with an annual savings of over $200,000 in additional asset value for the community.