In today's digital age, a fast and reliable internet connection is table stakes. If you enjoy access to 1 Gigabit, or even 2 Gigabit, internet from your local cable provider, you have the fairly recent completion of DOCSIS 3.1 upgrades to thank. 
What is DOCSIS? DOCSIS is the technology standard by which cable operators deliver internet over coaxial cable. The infographic below shows the evolution of DOCSIS (1) from when operators first launched internet service in the mid-1990s through the present–but with DOCSIS 4.0 right around the corner, we are now looking at the promise of 4, up to 10 Gbps, with even greater symmetrical upload/download speeds. In a world where more and more people are working and learning from home, receiving telehealth and patient services online, and sharing video content, speedy upload, as well as download, speeds are required. 
While many new or recently completed multifamily developments are served via Fiber to the Unit (FTTU), traditional cable operators still serve most apartments, homes, and small businesses over a network that combines fiber optic cable and coaxial cable known as Hybrid Fiber-Coax (HFC). In fact, up to 90% of American homes currently have infrastructure that includes fiber optic and/or coaxial cable.  According to a recent ATX Networks survey, there are "still a million miles of coax running through North America alone." (2)  This presents quite a challenge to these operators to develop technology solutions that provide increased bandwidth using existing infrastructure instead of an intrusive and costly rewire solution to get fiber to end users.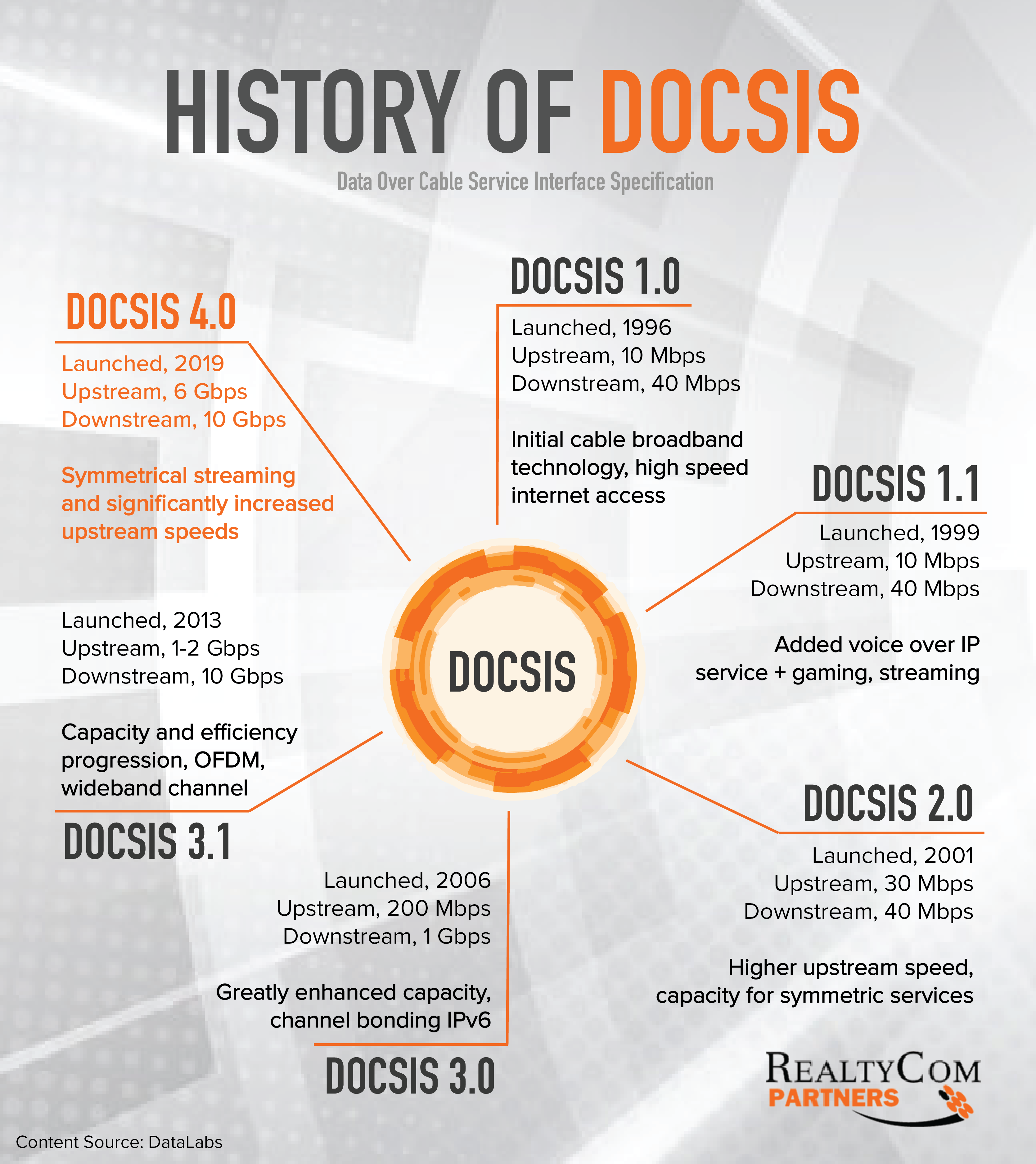 Implementation of DOCSIS 4.0. Operators have two options for deploying DOCSIS 4.0. The first is extended spectrum DOCSIS (ESD). While cable operators have traditionally used 860 MHz of spectrum in the coax portion of their networks, for DOCSIS 4.0, many are looking to expand this spectrum to 1.2 GHz or 1.8 GHz through ESD to get the most out of both the coax and fiber network capacity. Alternatively, the second option is full duplex (FDX), also known as double duplex. FDX is accomplished through the simultaneous transmission of both upstream and downstream transmissions, using the same spectrum. Newer modems located inside the home accompany these changes, resulting in much faster speeds for the customer. 
The two largest operators today using coax or HFC systems are Charter Communications (aka, Spectrum) and Comcast (aka, Xfinity). Per Telecompetitor, Charter plans to utilize ESD, "Charter says it expects to support speeds up to 5 Gbps downstream using DOCSIS 4.0 modems with 1.2 GHz of spectrum and high splits. The company expects to support speeds up to 10 Gbps downstream using DOCSIS 4.0 with 1.8 GHz of spectrum. In either case, upstream speeds will be 1 Gbps." (3) Regarding Comcast's plans, Telecompetitor states "Comcast says it has achieved speeds of 6 Gbps downstream and 4 Gbps upstream using full duplex DOCSIS 4.0 in a real-world test. The company expects to be able to replicate that across a large part of its network without taking fiber deeper into the network beginning later this year." (4)
DOCSIS 4.0 and the future. With the increasing demand for faster internet and the emergence of new technologies, the competitive future of DOCSIS in comparison to FTTU remains uncertain. It is, however, much less invasive and more cost-effective to upgrade HFC infrastructure than it is to rewire existing infrastructure to FTTU. In our experience, cable operators have not yet made the committed leap to overbuild projects to FTTU. Driven by technological advancements, market dynamics, and the evolving needs of both consumers and cable operators, we believe that this will be a transition that occurs gradually. 
Just like the rollout and implementation of DOCSIS 3.1, RealtyCom Partners will advocate for and communicate with our clients when these advancements are taking place. You can be confident your communities are receiving the best-in-class internet service as well as the latest technology available on the market. If you would like to stay informed on the DOCSIS 4.0 rollout, please sign up for our newsletter where we will be sharing updates on this topic and more.
(1) CableLabs (https://tinyurl.com/cablelabs)
(2) Fierce Telecom, April 24, 2023.  ATX:  Nearly Half of cable cos will upgrade to DOCSIS 4.0 by end of 2025.
(3) Telecompetitor, February 1, 2023.  Fiber Vs. DOCSIS 4.0:  How Long Will Fiber's Edge Last?
(4) Telecompetitor, February 1, 2023.  Fiber Vs. DOCSIS 4.0:  How Long Will Fiber's Edge Last?