By Annie Manfredi
The recent necessity for employees to work from home (WFH), and an outlook that suggests many will continue to WFH at least part time, has created an almost insatiable demand for high-speed internet and Wi-Fi streaming.  As such, many MDU owners are looking at how to best capitalize on this trend to attract new renters, increase revenue and streamline operations.  While the idea of moving from a retail service (where every resident is responsible to order and pay for their own service) to a bulk service (where the owner pays for the service for all units) is easy, the execution of a thoughtful rollout takes considerable thought and planning. When helping our clients consider bulk service options, we review four key areas as a part of the development of a potential launch plan.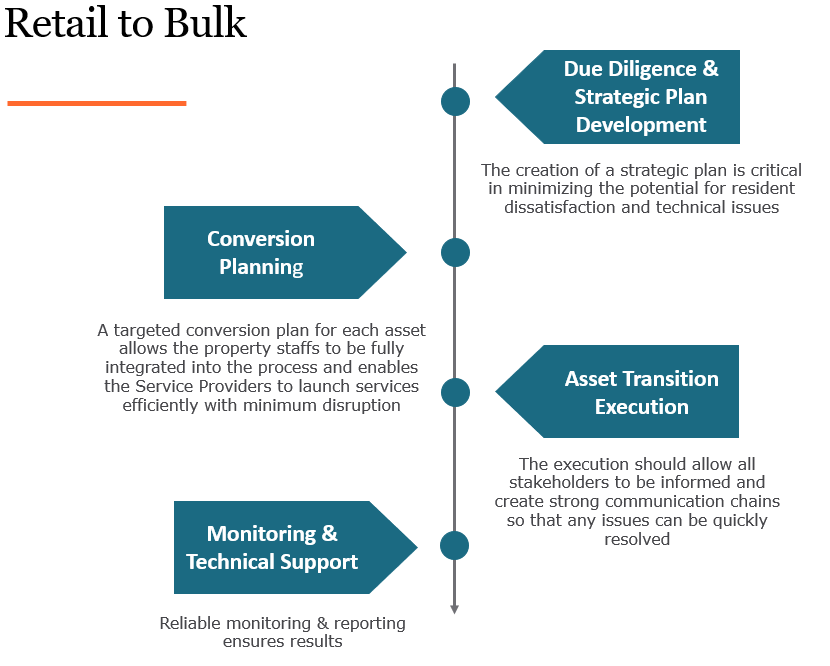 Due Diligence & Strategic Plan Development – While it may seem obvious, the first part of any plan is a client needs assessment. Is the owner just hoping to create revenue by "reselling" service or are they trying to keep up with local competition (or both), or do they hope to loop in new IoT devices for residents and create operational efficiencies? Does the owner have capital set aside for infrastructure or equipment that will be necessary, or do they need that to be provided? Does the owner have the IT staff to manage and monitor the systems or do they want more of a turn-key service?  What flexibility will they need to change service levels or to revert back to a retail service if required?
A well thought out Strategic Plan requires;
A thorough due diligence and contract analysis on any existing telecommunications agreements to determine the ability to add bulk internet/Managed Wi-Fi under the existing contract terms, the evaluation of the individual property infrastructure and its ability to support the new technology
Review of the existing Service Providers products and a compilation of the other potential providers that could service the communities
Competitive review of the immediate property competition to determine what level of service would be needed to meet or exceed competitor offers
Select and submit Request For Proposals to potential Service Providers to evaluate their offerings and advancements in technology
A cost/benefit analysis for the Owner, and resident cost considerations
Conversion Planning – The conversion planning is a critical element in the making of a successful strategy as it engages all of the stakeholders from the Service Providers to the Property Staffs.  The plan details include items such as Provider Terminations, Pre-Deployment Meetings and Transition Planning, the Site Marketing Plan and Materials planning, Deployment Facilitation with Site Team, Regular Project Management Calls, On-going Issue Resolution and Monitoring Significant Milestones.
Asset Transition Execution & Monitoring – Creating strategic plan that provides communication lines between all stakeholders provides the greatest opportunity for a successful rollout of the new service and eliminates most of the potential for resident issues or operational disruption.  A thoughtfully executed plan should incorporate items such as a Site Roll-Out checklist, Resident Notifications, Provider Marketing and Credentialing Plan, Service Activation Plan, Meeting schedule for Site Staff/Providers, Issue Resolution Tree, Monitoring & Reporting Schedules, On-going Bandwidth Utilization Monitoring, and long-term Support/Issue Resolution.
Providing a bulk internet service may be a terrific opportunity for Property Owners to offer an amenity to residents that they really want and to increase property NOI, but takes careful consideration of the Owners objectives and issues they want to solve. Like most things, the success of a new strategy depends largely on the execution planning and long-term management. RealtyCom is here to help you evaluate this unique opportunity and to assist you in creating a successful strategy.